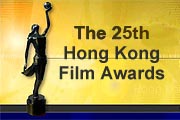 Heute Abend wurden in Hong Kong die 25sten Hong Kong Film Awards vergeben. Die Hong Kong Film Awards werden auch oft als die asiatischen Oscars bezeichnet. Der große Abräumer des Abends war Peter Chan's Musical Perhaps Love, dass in 11 Kategorien nominiert war, und 6 Auszeichnungen einstreichen konnte. Johnnie To's Gangster Drama Election und Andrew Lau's / Alan Mak's Comic-Adaption Inital D wurden von ihren je 10 Nominierungen mit je 4 Auszeichnungen bedacht. Komplett leer ging Stanley Kwan's in 6 Kategorien nominiertes Drama Everlasting Regret mit Sammie Cheng aus. Als großer Gewinner darf sich wohl Johnnie To's Film Election bezeichnen, der in den "wichtigen" Kategorien Bester Film, Bester Regisseur, Bestes Drehbuch (YAU Nai-Hoi & YIP Tin-Shing) und Bester Darsteller (Tony Leung Ka-Fai) punkten konnte. Überraschung des Abends war für mich der hervorragende Ke Ke Xi Li – Mountain Patrol als Bester Asiatischer Film, hatte ich hier doch fest mit Smypathy For Lady Vengeance gerechnet.
Hier die komplette Liste der Preisträger:
Best Film: Election
Best Director: Johnny TO – Election
Best Screenplay: YAU Nai-Hoi and YIP Tin-Shing – Election
Best Actor: LEUNG Kar-Fai – Election
Best Actress: ZHOU Xun – Perhaps Love
Best Supporting Actor: Anthony WONG – Initial D
Best Supporting Actress: Teresa MO – 2 Young
Best New Performer: Jay CHOU – Initial D
Best Cinematography: Peter PAU – Perhaps Love
Best Editing: YAU Chi-Wai – Divergence
Best Art Direction: YEE Chung-Man and Pater WONG – Perhaps Love
Best Costume and Make Up Design: YEE Chung-Man and Dora NG – Perhaps Love
Best Action Choreography: Donnie YEN – S.P.L. / Sha Po Lang
Best Original Film Score: Peter KAM and Leon KO – Perhaps Love
Best Original Film Song: "Perhaps Love" – Perhaps Love – performed by Jacky Cheung
Best Sound Design: Kinson TSANG – Initial D
Best Visual Effects: Victor WONG, Eddy WONG and CHEUNG Chung-Wah – Initial D
Best New Director: Kenneth BI – Rice Rhapsody
Best Asian Film: Kekexili: Mountain Patrol (China)
Eine kleine Bildergalerie des roten – bzw. violetten – Teppiches gibt es hier. Der geschmackliche Ausrutscher des Abends in Sachen Garderobe darf hier – der ansonsten immer elegant gekleideten – lieblichen Zhang ZiYi zugeschrieben werden. Aber auch Gillian Chung und Karen Mok lehnen sich weit aus dem Fenster. 😉
Weitere Bildergalerien gibt es auf sohu.com und auf tom.com.